Our Commitment to Quality
At Genuine Health, we use only the purest, highest quality ingredients in all of our formulas, sourced from natural, sustainable sources.
How do we do it?
For starters, we begin with the latest scientific research pertaining to health and the issues that matter to you most.
Our products are developed and formulated based on published research and proven scientific studies by renowned health professionals, in conjunction with our on-staff product development team, which includes leading naturopathic doctors, nutritional researchers, scientists and performance fitness experts.
We then search the world for the purest ingredients, from earth-friendly sources.
When it comes to ingredient sourcing we are non-discriminatory. The most important thing to us is to ensure that we are using the most efficacious ingredients that we can find, so that you can feel the difference each and every time you take a Genuine Health product. To ensure this, we engage in multiple types of testing to ensure that clean, pure, and active ingredients are present in our products.
Next, we subject our formulas to the strictest quality assurance testing to ensure each and every formula is above industry standard.
Our manufacturing facilities follow the strictest Quality Control procedures and have either a current Natural Products License or Drug Establishment License, while following GMP (Good Manufacturing Practices).
Last but not least, we work with leading health and supplement stores, pharmacies and grocery outlets for their support and education, in order to exceed your needs and expectations.
We know the search for the right supplements can be confusing. So how do you choose? At Genuine Health, we work together with all of our retailers because their support, understanding and education is key to your health.
Total Quality Obligation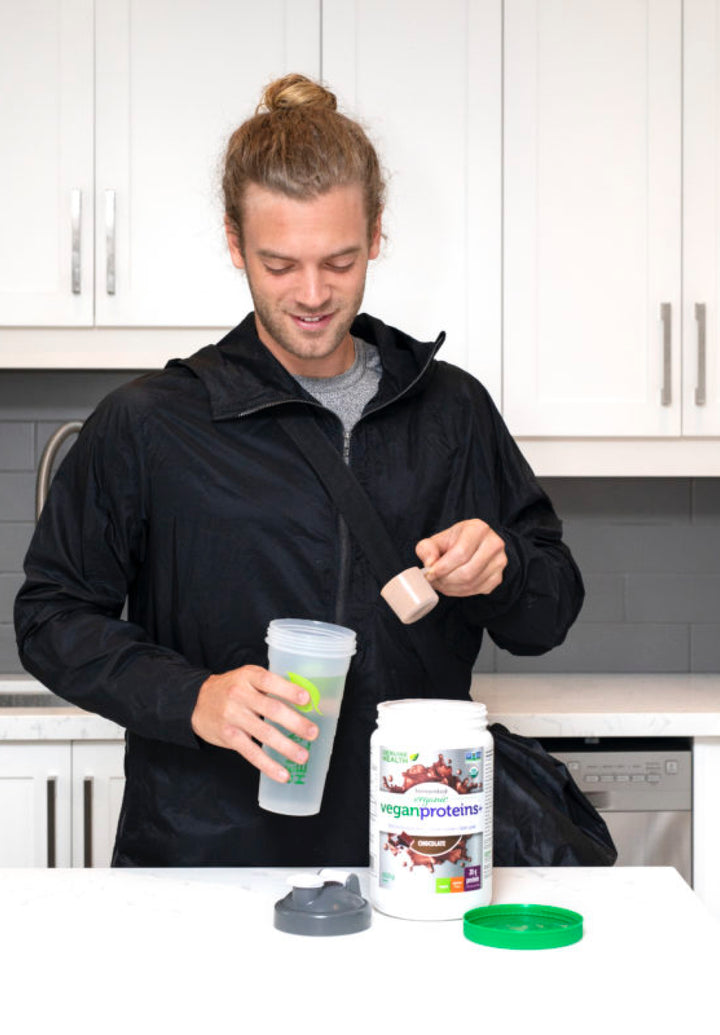 Our Total Quality Obligation ensures you are happy with your Genuine Health purchase, or your money back.* This is a one-time offer to provide customers with the opportunity to try a product with confidence.
Online purchases from the Genuine Health store:
For online purchases made directly from Genuine Health you may request a refund in the original form of payment (less shipping costs) within 60 days of the date of purchase. Please Email us for a return authorization number at customerservice@genuinehealth.com with your order# in the subject line and the product you wish to return (including flavour and size if applicable), along with the reason for return in the body of the Email.
Purchases from another vendor:
For product purchased from another online retailer or brick and mortar location please contact them directly to inquire about their return policy. Genuine Health may, at our sole discretion, issue a refund or exchange provided it is within 60 days of the date of purchase. Proof of purchase in the form of an original receipt is required. To determine if you qualify, please Email customerservice@genuinehealth.com.
Genuine Health reserves the right to request the product be shipped back to us in its original packaging at the customer's expense and does not assume responsibility for lost or misdirected returns. Please note that clearance items, as well as short-dated and expired product are not eligible for an exchange or refund.
* Terms and conditions apply and are subject to change without notice.
FAQs
How I can trust what is on your label?
Genuine Health is proud to stand behind the quality of our product each and every day. Creating products that work, not just ones that say they work, is the foundation of our company; it is the reason that greens+ – our flagship product – has been around for over 20 years and counting, standing the test of time. A claim to fame that we wear proud. In fact, greens+ alone has 9 research studies proving its efficacy.
We believe that for a product to work and do what it says on the label, this starts right from formulation. Taking the time to formulate a product with thought and with scientifically proven research is the first step for us. Our team of experts can spend years formulating our products to ensure that it is done right. The next critical step to make sure that the product inside does what it says on the label, is the quality of ingredients that you put in. The old adage you get what you pay for is very appropriate. That is why we ensure that we are buying the best quality of ACTIVE ingredients so that when you take them home, our products will work. Ingredients like standardized extracts NOT ground up herb powders. And ingredients that are rich in nutrients like Atlantic Dulse NOT Broccoli and Kale powder. We want you to pick up your supplements, read labels and question what's inside, because we have done our work to ensure that we meet your needs and our standards.
What about testing?
So let's talk testing. One of our favourite subjects – because we do a lot of it. Our testing process begins before we buy the ingredients for a product. When evaluating which ingredients will make the cut, we test for the active components to ensure they are there. We continue to test throughout the manufacturing processes including the final product. These tests vary by product type but for example include looking for the active markers that make the products work, ensuring an absence of contaminants and/or allergens and confirming nutrient requirements such as the amount of protein in each batch is consistent with what is on the label. We also 3rd party verify our products including using IFOS Consumer Reports for our fish oils. Moreover, we have more than 20 scientific studies on our finished products further proving through results that what we do at Genuine Health is working. That is taking the time to formulate properly, including ACTIVE quality ingredients, testing for those active ingredients as well the absence of contaminants, GMOs and common allergens, does indeed provide you with a product that does what it says it does.
How do I know that the amount of protein listed on the label is actually what I'm getting in your products?
You know because we know. We test every protein batch before it is released to ensure the label protein claim. All our testing is performed at third party laboratories using approved methods, vetted worldwide. Each of our protein products is tested to ensure label protein claim using the globally recognized test methods for determining protein content: the AOAC Dumas method or the Kjeldahl method.
I have heard that safety is very important with fish oils. What tests do you carry out on fish oils?
Our fish oils are tested for a variety of contaminants including PCBs, and oxidation levels (rancidity) before sale. In addition to these standard quantification tests, each product is also tested for microbial and chemical contaminants such as heavy metals, pesticides and solvents, using methods recognized by a variety of global authorities including the United States Pharmacopoeia (USP), the Association of Analytical Communities (AOAC), and Health Canada. For more information, click here.