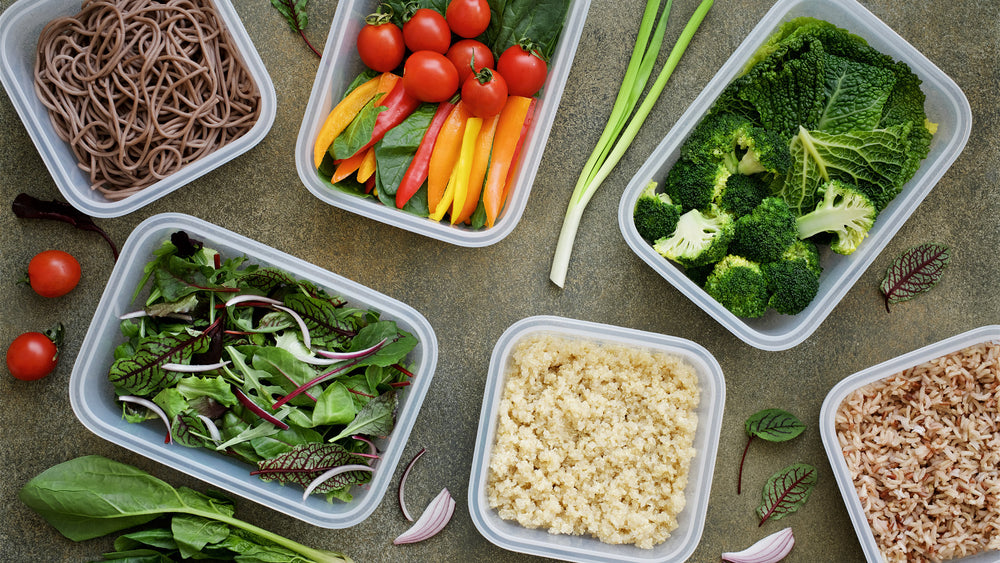 It should come as no surprise that I think meal prepping is hands down the best way to make healthy eating easy, quick and enjoyable.
When you meal plan: 



You have food already made in the fridge when you're hungry, which means you are WAY less likely to get or give into cravings.

 




You have more time so that you can actually exercise.

 




You are more likely to make healthy choices, so you are clearer headed and can focus on whatever it is you want to do.

 






You have energy in the morning because you're eating the right foods for breakfast (and you slept well the night before).

 




You save money by not succumbing to take out when you get home after work and don't want to cook.

 




Last, but not least, if you have weight to lose, meal planning is 100% the best way to do it.



If you are new to cooking or meal prep but would like to get back into a routine after the summer months, below I'm sharing a step-by-step guide to meal prep. For those of you who are already experienced meal planners, not to worry! I've included recipes and a sample meal plan in the instructions below.
A Step-by-Step Guide to Meal Prep
Step 1: Plan what you would like to eat for the week
The first step to meal prepping is to decide what you'd like to eat for the week. To avoid going to the grocery store mid-week, I recommend choosing at least:



2 breakfasts

 




3-4 mains

 




2 snacks



This way you can have some variety but don't need to cook a new thing every day. In addition to this, it can be helpful to think about a few items you can cook or prep at the beginning of the week and that you can use to round out meals when they are getting low. For example, 1-2 types of grains like brown rice or quinoa will stay good in the fridge all week. Mixed greens or a hearty veggie like kale can be thrown into a salad. I like to also occasionally like to buy frozen soups to keep on hand for when my prep is getting low. Snacks can be as simple as some fruit, some mixed nuts and 
Genuine Health 
fermented vegan p
rotein
s+
b
ars.
For example, your menu could look like this:
1. Breakfasts:
2. Mains:
3. Snacks:
If you are new to meal prep, are just cooking for one, or simply don't want to plan out 
all
 your meals, I recommend following this format:



2 breakfasts

 




2-3 different proteins (can be plant proteins too)

 




3-4 different veggies to roast

 




1-2 starches like brown rice or sweet potatoes

 




A mix of leafy green vegetables

 




2 different 

snacks

 



By thinking about it in this way, you can mix and match the proteins and veggies, and either make a meal more filling by pairing it with a starch, or throw a salad together by serving your meal over a bed of greens.
Step 2: Shop with a grocery list
Once you have decided what you plan to make for the week, write out all of the items in a grocery list. In the 
meal planning program we have at HEAL
, the items are organized by section of the grocery store to save you time. If I have time, I like to shop on Saturday and do my prep on Sunday. This way, it's less daunting to do everything all at once and on Sunday and I can just wake up and get everything done. Be sure to cross reference with what you have in the fridge. If your list is looking a little long, think about which items can be substituted in recipes so you can make use of what you already have in your cupboards.
Step 3: Make a plan
Make a general plan for what can be cooked ahead of time, what should just be prepped or marinated, for example, and how long each dish will take. The meals you can cook ahead of time are the ones that will keep in the fridge for at least a few days. I usually make most of my meals Sunday but will do another short prep mid-week to get me through until the rest of the week. For example, you could make the tomato meat sauce on Sunday and freeze it until mid-week. Then you just need to make the spaghetti squash on the night of.
When mapping out the order in which you'll be making everything, it's best to start with the meals that will take the longest to cook and/or are the most hands off. For example, anything in the slow cooker or that is simply sitting in a pot on the stove should be the first thing you start with. The same goes for anything you are just putting in the oven and either baking or roasting and that doesn't require much attention. If there are items that can be cooked at the same temperature, plan to have those ready to go in the oven at the same time. Anything that doesn't require cooking or that simply needs to be assembled, can be saved for the end.
What can help you stay organized is to do all the prep work like cleaning and chopping ahead of time, so the cooking part is essentially just assembling your items.
Step 4: Do your meal prep
Put on your favourite podcast or playlist and start prepping!
Using the menu plan I've listed above, this is the order of how everything could be made:



If you plan to eat it before Wednesday, start by baking the spaghetti squash because this takes the longest to cook and needs a high temperature. Otherwise, just cook the spaghetti squash on the night of.

 




While that cooks, start to prepare all the items that can go in the oven at the same time, which in this case is the black bean burgers (these can be frozen), egg muffins and chicken for the salad. Start by boiling the sweet potatoes while you get everything else ready. Set those items aside for when the oven is free. Be sure to set alarms so you know when to remove each of them from the oven.

 




Next, make the tomato and meat sauce on the stove. When it's done, store it in it

s own container in the fridge or freeze it for later in the week.

 




If you prefer to eat the salmon fresh, put all of the veggies for this dish in one container so that this dish is essentially ready to go. On the night you plan to eat it, all you'll have to do is follow the cooking instructions.

 




Next, make the dressing for the Southwest Chicken Salad.

 




Assemble the southwest salad and store in the fridge. Jar salads are a great way to keep your salad from going soggy.

 




Assemble, but don't dress, your side salad so it is ready to go during the week or simply wash the vegetables so you just have to put it together.

 




Lastly, make the almond butter bites in your food processor.

 




If you'd like to take it one step further you can portion out all of your dry smoothie ingredients into individual containers in the freezer. Then in the morning all you have to do is add the ingredients to the blender with your liquid of choice.

 



Step 5: Enjoy healthy, homemade meals all week long!
I know you don't always have time to do a full on meal prep every single week. The more you can get into the habit of developing a general idea of what you'd like to eat, shopping with a list, and doing some degree of prep ahead of your week, the easier it will be to make healthy choices all week long. Over time, your mindset around food will start to change so that you are always thinking about how you can get a few meals out of 30 minutes of cooking. 
Use left/right arrows to navigate the slideshow or swipe left/right if using a mobile device