A Men's Guide to Great Health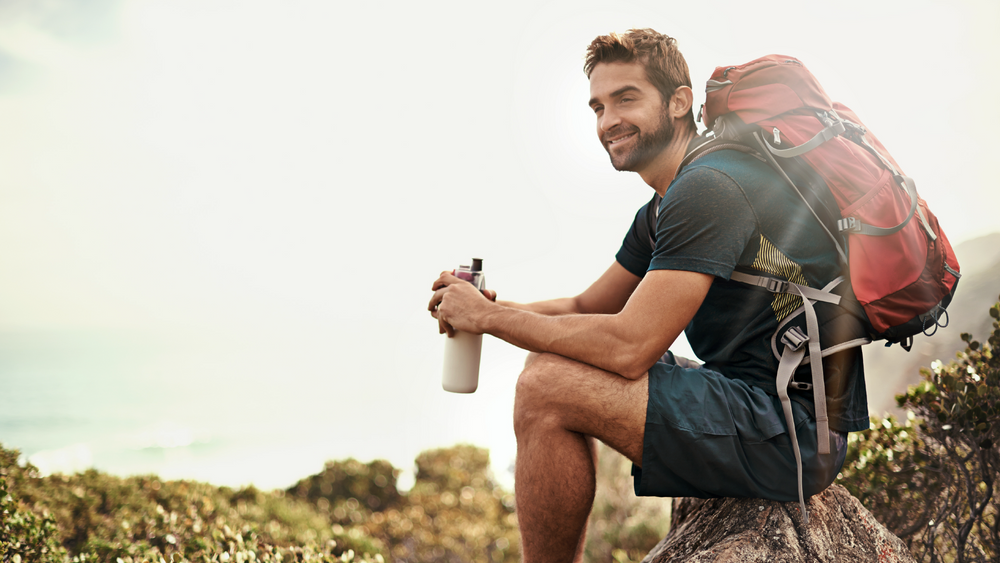 Men are built uniquely and should focus on healthy choices that will support factors such as heart, gut and mental health, stronger joints, muscle endurance, and nutritional diversity. If you're ready to elevate your own health or help support the health of a loved one, here are some positive choices to make for lasting benefits! We'll dive into ways to start or upgrade your physical activity and how to get more mindful about what you're putting on your plate daily. 
Active Living  
Keeping active is one of the best ways to keep your heart strong and support your health. Consider starting the day with a morning stretch. This not only gets the blood flowing but it also helps improve flexibility and prevent injury. For men who spend the day sitting at a desk, incorporating daily stretching breaks will help keep your joints limber and help activate your muscles more. 
Not to worry if you're just getting started with regular exercise, daily walking is a great way to begin becoming active. Try walking to work instead of driving, or run your errands on foot when time permits. Like any new habit, this may seem unfamiliar at first, but you'll quickly settle into your new routine and the health benefits of daily walking will quickly start to show. 
In addition to replacing driving with walking, consider taking the stairs instead of the elevator. Those flights will soon add up and you'll notice your endurance improving! Once you're comfortable with more moderate exercise you can look at expanding your interests - take up jogging, swimming, cycling or hiking or join a gym or yoga studio to add some strength training activities to the mix.  
Plus, regular exercise is something you are going to want to prioritize both for physical and mental health. Studies show that more movement results in a more positive mindset and mood. The great thing about staying active is that there are so many different ways to enjoy moving your body.  
For the more social men out there, getting exercise can also be an engaging way to enjoy the company of others - joining a team or run club for example gets you fit and keeps you connected. For men who might feel more introverted particularly when it comes to getting active, why not let this be a time to enjoy your own company, perhaps even to practice being meditative. A walking meditation is an active activity that you can really immerse yourself in and enjoy solo - great for your mind and body too! 
Intentional Eating 
Eating mindfully and with intention is a positive way to position your dietary choices. When you think about what and how you eat having a direct correlation to your overall health, you'll likely find yourself incentivized to make good choices.  
Reaching for whole foods over processed and junk foods is a great start if you're looking to make some changes to a less healthy diet. Whole foods support your body with a variety of nutrients. Fresh produce is a simple way to eat well. You can visit local produce stands and markets and buy whatever is in-season. Not only will seasonal fruit and veg taste amazing, they'll be priced more affordably than imported options. 
Greens in particular are a men's health heavyweight! Field greens with berries and feta make for a refreshing summer salad, while spinach, kale and Swiss chard can all be added to a stir fry or pasta. You can even amp up your intake of greens by adding arugula to your pizzas! In addition to greens rich meal ideas, you can incorporate a greens powder to ensure you're getting all those essential nutrients in your diet.  
Another way to make sure you're supporting your health with proper nutrition even when your schedule doesn't always allow for meal prep and home cooking is by taking a quality protein supplement. Whether you're just getting started on your wellness journey or are looking to really level up your workouts, protein is an essential macronutrient that helps keep cells and muscles happy! 
The Key to Vitality 
Empowering yourself to make strong choices that support your health is the key to vitality. Men in particular should focus on healthy choices that will support factors such as heart health, stronger joints, muscle endurance and nutritional diversity. Keeping active and eating with these goals in mind are lifestyle decisions that can be easily implemented and have a life-long impact! 
Use left/right arrows to navigate the slideshow or swipe left/right if using a mobile device