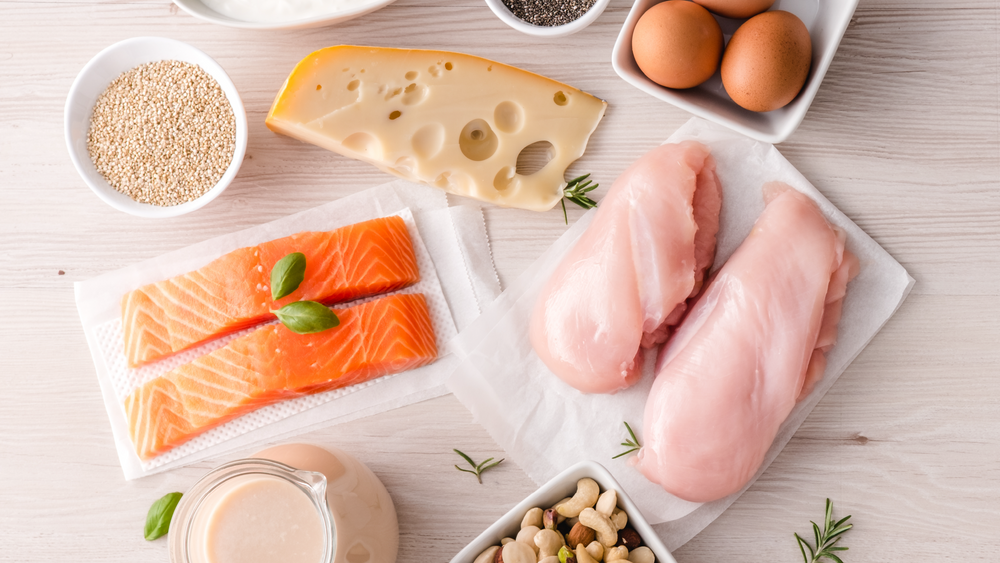 Whether you're plant-based, plant-curious or simply looking to embrace a healthy lifestyle, protein is always front and centre when we consider our dietary choices from a wellness perspective.  
Why exactly is protein such a fan fave and how does it support the body? Essentially, research shows that "protein helps repair and build your body's tissues. It drives metabolic reactions, maintains pH and fluid balance, and keeps the immune system strong. It also transports and stores nutrients and can act as an energy source".  
Now that we have established why protein is a nutritional staple, let's look at where we can source it from. As always, when it comes to establishing and maintaining a healthy, balanced diet, we want to look to whole foods and quality supplements for our nutrients, steering clear of junk foods and chemically processed products. Check out this list of some top sources of vegan and animal proteins, and delicious ways to enjoy them! 
1. Tofu 
For the vegan-curious among us tofu might seem intimidating at first, but anyone familiar with a plant-based diet will tell you that this multi-purpose soy product is easy to prepare and has the potential to taste incredible! Weighing in at 8 grams of protein per a 100 gram serving, there are seemingly endless ways to prepare this plant-based powerhouse.  
It's worth noting that you'll often see tofu in the grocery aisle available in varying textures ranging from soft to extra-firm. A soft tofu is ideal for creating a dessert with a mousse-like texture, whereas an extra-firm block of tofu is exactly what you'll want to choose for a more "meaty" substitute. After rinsing and removing excess moisture from your extra-firm tofu, cut your block into triangle "steaks" and marinate in a little oil and tamari. Bake or stir fry to create an umami rich centerpiece for your next meal.
2. Tempeh
Tofu may have been on the receiving end of ample vegan accolades, but tempeh, tofu's fermented cousin, is catching up in popularity. Clocking in at a whopping 19 grams of protein per a 100 gram serving, tempeh is a tasty addition to any plant-based meal. Not only does this fermented soybean product effortlessly imitate bacon, but it also turns a simple Caesar salad into a vegan masterpiece with the addition of tempeh "croutons".  
Tempeh doesn't hold excess water like tofu, thanks to its denser form. All you'll need to do is cube and season it and you're off to the races. Try cubing a sheet of tempeh and then marinating it with a little liquid smoke, tamari and maple syrup. Pop the cubes in the oven and once they're nice and toasty, you can toss them into a salad with a plant-based Caesar dressing, kale, sweet potato and roasted chickpeas for a delicious protein-rich meal. 
3. Legumes
And speaking of chickpeas, these little cuties also pack a protein powered punch! With 19 grams of protein per a 100 gram serving, chickpeas certainly deliver on more than just taste and they're also super simple to prepare.  
Drain and rinse a can of chickpeas, toss with salt, cumin and paprika, spread on a parchment lined baking tray and roast. You can add them to the previously mentioned vegan Caesar salad or enjoy them as a tasty snack on their own! 
4. Seeds
Not just for the birds, seeds are a simple way to add protein to any meal. You can easily amp up some warm toast with a thick spread of pumpkin seed butter. Pumpkin seeds weigh in at 19 grams of protein per a 100 gram serving! This tasty alternative to nut butter also has the added bonus of being school-safe and is therefore less of a concern for those of us with allergies.  
5. Protein or Collagen Powder
Protein or collagen powders are perfect partners for your active lifestyle! If you're plant-based or are looking to incorporate more plant protein in your diet, we've got you covered with our fermented organic vegan proteins. It's made with 20 grams of protein from 7 plant-based sources, and it's fermented to ensure you're fueled without the bloat. Blend it up with a frozen banana and plant milk for a sweet, chocolatey treat. 
If you're looking for a boost of protein from an animal source, try our marine or bovine collagen. It's made with 10g of protein per serving and has been specially created to support stronger hair, nails and joints – which is especially necessary to boost your mobility and flexibility! 
6. Eggs
With 13 grams of protein per a 100 gram serving, eggs are a great way to start your morning. Plus, there are so many creative ways you can make them. Scrambled, sunny side up, omelets, quiches...the list goes on and on. Don't shy away from adding some of that pumpkin butter toast to your brunch spread - after all there's no rule that says you can't mix plant AND animal proteins on your plate! 
7. Fish
Sustainably sourced fish serves up a significant amount of protein! For example, salmon weighs in at 20 grams of protein per a 100 gram serving and can be a delicious way to eat healthy and get an abundance of nutrients. Add a squeeze of lemon, some sea salt, fresh ground pepper, olive oil and a sprig of rosemary to your fish fillet, then wrap in foil and give it a grill!
Protein – A Key Player in Wellness 
Whether you choose to be entirely plant-based, are feeling a meatless Monday, or are more focused on eating healthy animal products, protein is a key player when it comes to maintaining and improving your overall health. Choosing your protein sources wisely is going to make all the difference in meeting your wellness goals. Plus, preparing your proteins with simple ingredients is sure to make eating healthy, delicious and fun! 
Use left/right arrows to navigate the slideshow or swipe left/right if using a mobile device