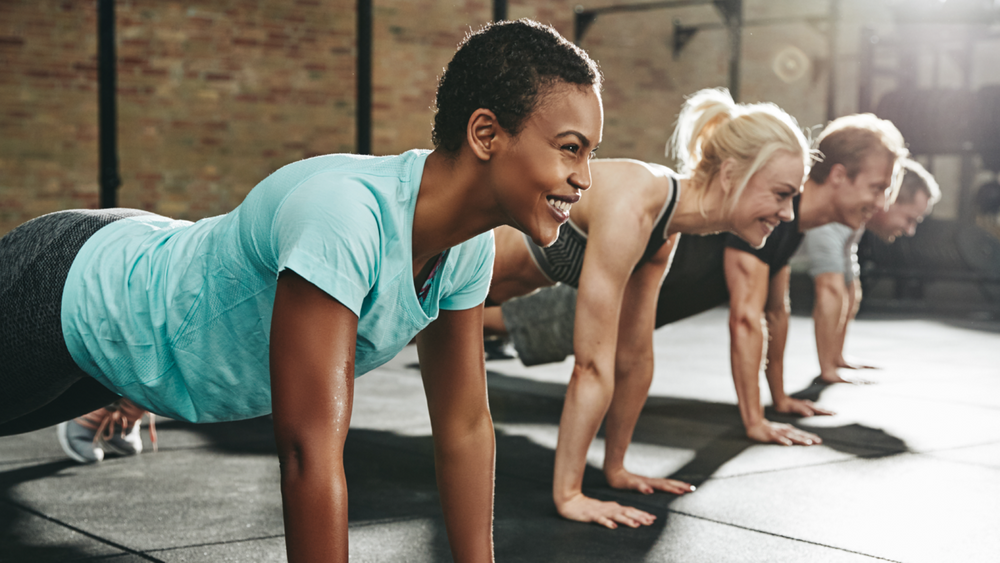 The average US adult spends 9.5 hours per day completely sedentary.
Most of that time is spent at work and during leisure time with 82% of it spent sitting and looking at screens.
Higher levels of sedentary behaviour - think working at a desk or lying on the couch - is associated with higher risk of cardiometabolic diseases like heart attack and stroke.
Nowadays we know that having an active lifestyle is important for overall health and wellbeing - but actually making it happen can be difficult. If you find it hard to carve out time to go to the gym or exercise during a busy week, here are 3 tips to help you be more active every day.
3 easy ways to have a more active lifestyle
1. Make simple swaps
The trick to having a more active lifestyle is making small changes every day. You don't need to start training for an ultra-marathon to be more active - simply making simple swaps in your day-to-day activities can make all the difference.
Build more activity into your daily routine, including:
Taking the stairs instead of the elevator

Cycling instead of taking the bus

Parking at the furthest corner of the parking lot

Going for a walk with friends instead of going to a restaurant

Standing up for 2 minutes every 30 minutes
To master a more active lifestyle, look for ways to add more movement into every day - just a few small swaps can make all the difference to your mood, your fitness and your overall wellbeing.
2. Set clear goals
If you want to have a more active lifestyle, try to set yourself clear, concrete fitness goals.
Instead of saying 'I want to get fitter', choose a measurable goal that you can work towards instead to help give you focus and give you something to celebrate when you hit it!
For example, your daily minimum goal could be to get 30 minutes of exercise every day. But that doesn't mean you need to set aside a 30-minute block to exercise. In fact, 3 sessions of 10-minutes is still good for your body.
For example, you could try:
10 minutes of stretching when you wake up in the morning

A 10 minute walk outside at lunchtime

10 minutes of dancing to your favorite playlist when you're waiting for dinner
Set short-term goals and then reward yourself when you reach them - for example, going to 1 exercise class 1 day every week for 1 month. When you reach the end of the first month, treat yourself for achieving your goal with a journal, new exercise clothes, or a day trip to somewhere you love.
Top tip: Adding more movement into every day doesn't have to feel like a chore, find fun ways to move your body like a dance class, walking with friends, or going for a bike ride.
3. Get your nutrition right
If you struggle with low energy levels, your nutrition might be to blame. To help you have a more active lifestyle, make sure you're getting a balanced diet with plenty of vegetables, fruit, protein and whole grains.
If you're exercising more - especially hard exercise sessions like going to the gym or running - you might find it helpful to add a protein supplement into your diet. While many people can get enough protein from food sources like meat, eggs, and fish, protein supplements can be beneficial.
People who can benefit from protein powder include:
Anyone struggling to meet their protein needs

Anyone looking for a fast, convenient way to consume more protein

People looking to gain weight or preserve muscle mass

Athletes

Older adults
Make sure you look for protein powder that contains zero artificial sweeteners, flavors or colors. Our fermented organic vegan protein is made from organic spirulina, mung bean, yellow pea kernel, pumpkin, flaxseed, hemp and brown rice for a balanced amino acid profile to help you build lean muscle, boost your metabolism, support your immune system and balance your blood sugar levels. 
Move more every day
The secret to having an active lifestyle is to find ways to move more every day. You don't need to make drastic changes to your daily routine to be more active and take control of your health - find simple swaps in your everyday activities, set manageable fitness goals, and make sure you're getting the food and nutrients you need to support a healthier lifestyle.
Use left/right arrows to navigate the slideshow or swipe left/right if using a mobile device