The "Hype" Behind Greens Extra Energy
Posted on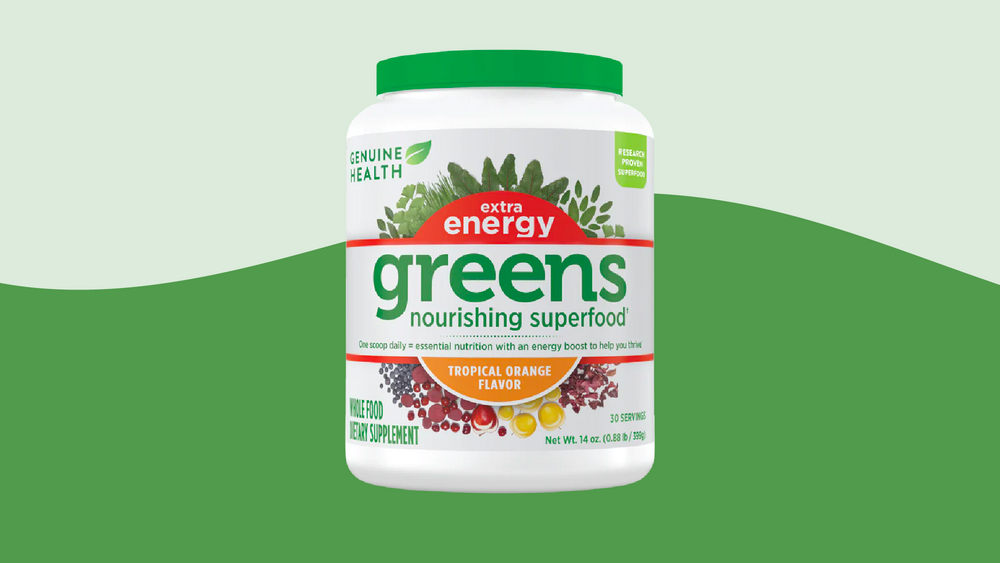 Today we want to put the spotlight on our best-selling greens powder to remind you of all the ways it's been designed to provide you with a daily boost of immediate and lasting energy from all-natural sources.  
What is extra energy? 
Did you know our greens extra energy has been proven to increase energy by an average of 56% daily? Let's break down what this actually means. 
When we say 'energy', we're referring to the automatic mental clarity and physical boost of vitality you get to take on your day. When your vital organs like your heart, brain and stomach are functioning normally, they build coherence. Coherence leads to all bodily systems working productively, holistically and in harmony. 
This is what makes greens extra energy so powerful. It's a formula that supplies you with energizing compounds from herbs and antioxidants, while also streamlining how your body harnesses and uses this energy in the most efficient ways to keep you running on a full tank. Because we only use natural ingredients, you don't have to worry about feeling jittery from an overload of sugar (glucose) or experiencing a sudden energy crash later, that leaves you tired, moody and unmotivated all over again. 
Where does the extra energy come from? 
As you look through all the options on store shelves to find something that will keep you awake and alert all day (that isn't coffee or a sugar-spiked energy drink), you may be wondering how to choose the best option. Our greens formula has been created to make this process easy for you, by only including pure, all-natural ingredients that come from the highest-quality plant-based sources – the base of the food chain. 
Greens+ extra energy includes 10 superfoods, 3 sea vegetables, 3 chlorophyll-rich grasses, and 11 energizing herbs to provide diversity and nutrients you may not get in your regular diet. We've carefully selected ingredients that support many aspects relating to overall energy including our cognitive abilities, like mental sharpness and focus, and physical performance, which allows us to work, play and function. 
Improves Cognitive Performance! 
Gotu Kola Herb Powder

(1, 2)

 

L-taurine, L-tyrosine (amino acid)

(3, 4)

 

Glycine

(5)

 

Kola Nut Seed Extract

(6)

 
Improves Physical Performance!  
Rhodiola rosea root extract

(7)

 

Vitamin C, B6

(8)

 

Suma Root & Astralagus Root Powder

(6)

 
Mix It Up! 
You can easily add greens extra energy to almost anything without even knowing you're taking in all that green power and nourishment. Looking for a fun way to use this delicious, energy-enhancing blend in the kitchen? Try our Citrus Pineapple Energy Smoothiege for a burst of flavor and energy in the morning or whenever you need an afternoon boost! 
References 
[1] Heckman, M. A. et al. Caffeine (1, 3, 7-trimethylxanthine) in Foods: A Comprehensive Review on Consumption, Functionality, Safety, and Regulatory Matters. Journal of Food Science 2010 April;75(3):77-87. ​ 
[2] Haskell, C. F. et al. The effects of L-theanine, caffeine and their combination on cognition and mood. Biological Psychology 2008 February;77(2):113-122.​ 
[3] Hase, A. et al. Behavioural and cognitive effects of tyrosine intake in healthy human adults. Pharmacology, Biochemistry and Behaviour 2015 March;133:1-6. ​
[4] Bloemendaal, M. et al. Neuro-Cognitive Effects of Acute Tyrosine Administration on Reactive and Proactive Response Inhibition in Healthy Older Adults. Society for Neuroscience 2018 April;5(2):1-18.  
[5] Kumar, P. et al. Glycine and N-acetylcysteine (GlyNAC) supplementation in older adults improves glutathione deficiency, oxidative stress, mitochondrial dysfunction, inflammation, insulin resistance, endothelial dysfunction, genotoxicity, muscle strength, and cognition: Results of a pilot clinical trial. Clinical and Translational Medicine 2021 March;11(3):372. 
[6] Ny, V. et al. potential benefits of incorporating Astragalus membranaceus into the diet of people undergoing disease treatment: An overview. Journal of Functional Foods 2021 Febraury;77:104339. 
[7] Ballmann, C. G. et al. Effects of short-term Rhodiola Rosea (Golden Root Extract) supplementation on anaerobic exercise performance. Journal of Sports Sciences 2019 May;37(9):998-1003.  
[8] Woolf, K. et al. B-Vitamins and Exercise: Does Exercise Alter Requirements? International Journal of Sport Nutrition and Exercise Metabolism 2006 October;16(5):453-484.  
Use left/right arrows to navigate the slideshow or swipe left/right if using a mobile device