Which Genuine Health Probiotic is best for you?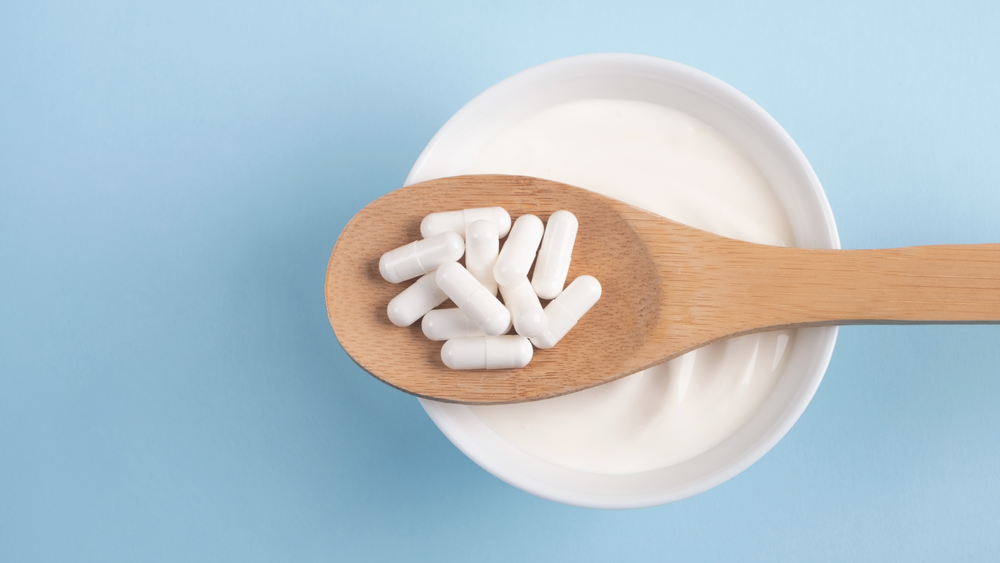 Probiotics are the essential live bacteria found in the gut that have a direct and powerful influence on everything from digestion to immunity to even our moods. Though they can be sourced from fermented foods we may occasionally eat like yogurt or sauerkraut, we need consistent and large amounts of them to maintain a healthy and balanced gut microbiome. The best way to ensure this is to take a daily probiotic supplement. However, with so many probiotics available on the market, it can be difficult to know which product is best suited for your unique needs. Genuine Health offers a line of wide-ranging probiotics that benefit specific health outcomes. Our product development team put time and effort into creating each of these products, and ensuring they are effective and science-based! 
Before we break down the benefits of each individual probiotic to help you pick the right one for you, here are some key features that outline how our probiotics are made uniquely.  
15 balanced strains of bacteria in each dose to promote diversity and optimize gut health

 

Superior formula that contains a combination of resident & transient strains - resident strains always live in your gut whereas transient strains pass through our digestive tract and need to be replaced!

 

Vegan, delayed-release capsules that make sure the strains reach the gut - stomach acid resistant!

 

Room temperature stable - no refrigeration required!

 

100% vegan

 
Below each of our probiotics is broken down to help you make the right choice. 
Do you have a sensitive stomach?
Are you looking to gently enhance your digestive health?
Are you new to probiotics?
AGH 15 billion is our most gentle probiotic designed to help increase the amount of 'friendly' bacteria found in our gut and relieve common irritable bowel syndrome (IBS) symptoms like bloating and constipation. This product contains 15 billion CFU (colony-forming units) and 15 unique bacterial strains and is great for people with sensitive stomachs who want to introduce probiotics into their daily regimen. Below you can find information on the health benefits some of the strains provide! 
Improve gut upset:

Bifidobacterium bifidum [1] & Bifidobacterium animalis subsp. Lactis [2]

 

Aids in digestion:

Bifidobacterium bifidum [1]

 

Clinically found to reduce symptoms of IBS:

Bifidobacterium longum subsp. Infantis [1]

 

Enhances immunity:

Bifidobacterium animalis subsp. Lactis [3]

 
Promotes diversity in the gut:

Lactobacillus casei [4]

 
Do you want to improve your daily digestion?
Seeking to get rid of consistent gastrointestinal upset?
Are you looking to build more resilient gut health?
AGH 50 billion is designed to support your digestion and promote a favourable gut flora with extra-strength. At 50 billion CFU (colony-forming units), this product is slightly more potent than our 15 billion probiotic, providing more bacteria to the gut in one capsule. Below will outline several outcomes of taking this probiotic, and which strains provide each benefit! 
Reduce Constipation:

Lactobacillus rhamnosus, Lactobacillus acidophilus, Bifidobacterium lactis, Bifdobacterium longum, and Bifidobacterium bifidum in combination! [4]

 

Reduce Diarrhea:

Lactobacillus rhamnosus, Lactobacillus acidophilus, Bifidobacterium lactis, Bifdobacterium longum, and Bifidobacterium bifidum in combination! [4]

 

Relieve abdominal upset:

Lactobacillus casei [5]

 

Promote diversity in the gut: All strains!

 
Are you a woman looking for a probiotic specifically designed to support women's health? 
Aiming to optimize your gut, immune, vaginal and hormonal health all at once? 
Do you want a natural solution for stress? 
AGH Women's Daily was created specifically for women by women. Several strains were carefully selected to support factors specific to women's health, including digestive, skin, vaginal and immune health [5], [6], [7]. This probiotic is intended to provide health benefits throughout every stage of life and at any age. 
Gut health: All strains!

 

Vaginal Health – reduce yeast infections:

Lactobacillus fermentum [7] & Lactobacillus rhamnosus [7]

 

Skin Health –

supporting hydrated and elastic skin: Lactococcus lactis [5]

 

Immune Health: All strains!

 
Have you experienced urinary tract infections (UTI's) frequently? 
Do you want to get rid of UTI's once and for all? 
Looking for a natural UTI solution? 
AGH UTI was created to protect you from recurring UTI's! This product contains strains that primarily help improve vaginal health, with added cranberry extract for extra support against inflammation and infection of the urinary tract. You can finally say goodbye to pain, irritation and discomfort! 
Improve vaginal health:

Lactobacillus rhamnosus [7] & Lactobacillus acidophilus [8]

 
Prevent the development of UTI's:

Cranberry extract [9] [10]

 
Are you looking for natural mood support?
Seeking a more consistent and brighter mental outlook?
Trying to reduce and manage your daily stress?
Your gut health can have a direct impact on the stress you feel every day and the moods you experience. AGH Mood was carefully created to support a positive mental outlook and help both your gut health and mindset flourish! We've also added a special ingredient, Extramel melon juice, which has been clinically-proven to improve the body's stress response. 
Improve mental state, mood, & sleep quality:

Lactobacillus gasseri [11] [12] [13]

 

Improves stress response:

Lactobacillus salivarius [14]

 

Reduces stress and fatigue:

Extramel melon juice concentrate [15]

 
Do you want to improve your child's gut and immune health?
Aiming to reduce your child's digestive issues (constipation, diarrhea, etc.) naturally? 
Looking for a fuss-free probiotic your kids will actually love taking? 
Our AGH kids' probiotic has 5 billion CFU (colony forming units), adjusted to be safe and suitable for kids, with 7 balanced strains to support gut bacteria diversity but at a lesser amount. This great tasting probiotic comes in a chewable kid-friendly format that tastes like lemonade. Find more product specific information below! 
Gut support (reduced diarrhea, abdominal pain, constipation):

Lactobacillus reuteri

[20] [21] [22] [23]

 
Robust immunity: Low levels of

bifido & lactobacillus

bacteria are associated with the development of allergies, eczema,& asthma in children, that's why we make sure these strains are included in our children's probiotic [24]

 
References 
[1] Skrzydlo-Radomanska, B. et al. The Effectiveness of Synbiotic Preparation Containing Lactobacillus and Bifidobacterium Probiotic Strains and Short Chain Fructooligosaccharides in Patients with Diarrhea Predominant Irritable Bowel Syndrome – A Randomized Double-Blind, Placebo-Controlled Study. Nutrients 2020 July;12(7):1999. 
[2] Grubb, D. S. et al. PHAGE-2 Study: Supplemental Bacteriophages Extend Bifidobacterium animalis subsp. Lactis BL04 Benefits on Gut Health and Microbiota in Healthy Adults. Nutrients 2020 August;12(8):2474. 
[3] Klein, A. et al. Lactobacillus acidophilus 74-2 and Bifidobacterium animalis subsp lactis DGCC 420 modulate unspecific cellular immune response in healthy adults. European Journal of Clinical Nutrition 2008;62(5):584-593. 
[4] Kato-Kataoka, A. et al. Fermented Milk Containing Lactobacillus casei Strain Shirota Preserves the DIversity of the Gut Microbiota and Relieves Abdominal Dysfunction in Healthy Medical Students Exposed to Academic Stress. Applied and Environmental Microbiology 2016 May;82(12):3649-3658. 
[5] Kimoto-Nira, H. et al. Effects of ingesting milk fermented by Lactococcus lactis H61 on skin health in young women: A randomized double-blind study. Journal of Dairy Science 2014 September;97(9):5898-5903. 
[6] Luebberding, S. et al. Skin physiology in men and women: in vivo evaluation of 300 people including TEWL, SC hydration, sebum content and skin surface pH. International Journal of Cosmetic Science 2013 May;35(5):477-483. 
[7] Reid, G. et al. Oral use of Lactobacillus rhamnosus GR-1 and L. fermentum RC-14 significantly alters vaginal flora: a randomized, placebo-controlled trial in 64 healthy women. FEMS Immunology & Medical Microbiology 2003 March;35(2):131-134. 
[8] Strasser, B. et al. Probiotic Supplements Beneficially Affect Tryptophan-Kynurenine Metabolism and Reduce the Incidence of Upper Respiratory Tract Infections in Trained Athletes: A Randomized, Double-Blinded, Placebo-Controlled Trial. Nutrients 2016 November;8(11):752. 
[9] Maki, K. C. et al. Consumption of a cranberry juice beverage lowered the number of clinical urinary tract infection episodes in women with a recent history of urinary tract infection. The American Journal of Clinical Nutrition 2017 August;103(2):1434-1442. 
[10] Babar, A. et al. High dose versus low dose standardized cranberry proanthocyanidin extract for the prevention of recurrent urinary tract infection in healthy women: a double-blind randomized controlled trial. BMC Urology 2021 March;21(1):44. 
[11] Nishida, K. et al. Health Benefits of Lactobacillus gasseri CP2305 Tablets in Young Adults Exposed to Chronic Stress: A Randomized, Double-Blind, Placebo-Controlled Study. Nutrients 2019 August;11(8):1859. 
[12] Nishida, K. et al. Para-psychobiotic Lactobacillus gasseri CP2305 ameliorates stress-related symptoms and sleep quality. Journal of Applied Microbiology 2017 September;123(6):1561-1570. 
[13] Nishihira, J. et al. Elevation of natural killer cell activity and alleviation of mental stress by consumption of yogurt containing Lactobacillus gasseri SBT2055 and Bifidobacterium longum SBT2928 in a double-blind, placebo-controlled clinical trial. Journal of Functional Foods November 2014;11:261-268. 
[14] Steenbergen, L. et al. A randomized controlled trial to test the effect of multispecies probiotic on cognitive reactivity to sad mood 2015 August;48:258-264. 
[15] Milesi, M-A. et al. Effect of an oral supplementation with a proprietary melon juice concentrate (Extramel™) on stress and fatigue in healthy people: a pilot, double-blind, placebo-controlled clinical trial. Nutrition Journal 2009 September;8(1):40-40. 
[16] Lee, A. et al. Consumption of Dairy Yogurt Containing Lactobacillus paracasei ssp. Paracasei, Bifidobacterium animalis ssp. Lactis and Heat-Treated Lactobacillus planatarum Improves Immune Function Including Natural Killer Cell Activity. Nutrients 2017 June;9(6):558. 
[17] Read, S. A. et al. The Role of Zinc in Antiviral Immunity. Advances in Nutrition 2019 July; 10(4):696-710. 
[18] Carsten, C. Nutrigenomics of Vitamin D. Nutrients 2019 March; 11(3):676. 
[19] Sindhu, K. N. C. et al. Immune resonse and intestinal permeability in children with acute gastroenteritis treated with Lactobacillus rhamnosus GG: a randomized, double-blind, placebo-controlled trial. Clinical Infectious Diseases 2014 February;58(8):1107-1115. 
[20] Gutierrez-CastrellonP, et al. Diarrhea in preschool children and Lactobacillus reuteri: a randomized controlled trial. Pediatrics. 2014 Apr;133(4):e904-9 
[21] Abdominal Pain in Childhood: A Randomized, Double-Blind, Placebo-Controlled Trial. Journal of Pediatrics, 174, 160–164.e1. https://doi.org/10.1016/j.jpeds.2016.04.003 
[22] Maragkoudaki, M., Chouliaras, G., Orel, R., Horvath, A., Szajewska, H., & Papadopoulou, A. (2017). Lactobacillus reuteriDSM 17938 and a placebo both significantly reduced symptoms in children with functional abdominal pain. Acta Paediatrica, International Journal of Paediatrics, 106(11), 1857–1862. https://doi.org/10.1111/apa.13992 
[23] Gutierrez-Castrellon, P. et al. Diarrhea in preschool children and Lactobacillus reuteri: a randomized controlled trial. Pediatrics 2014 April;133(4):904-909. 
[24] Zimmermann, P., Messina, N., Mohn, W. W., Finlay, B. B., & Curtis, N. (2018). Association between the intestinal microbiota and allergic sensitization, eczema, and asthma: Asystematic review. Journal of Allergy and Clinical Immunology, 0(0), 39–42. 
Use left/right arrows to navigate the slideshow or swipe left/right if using a mobile device