Avoiding Holiday Burnout
by https://genuinehealth.com/blogs/genuine-hub
on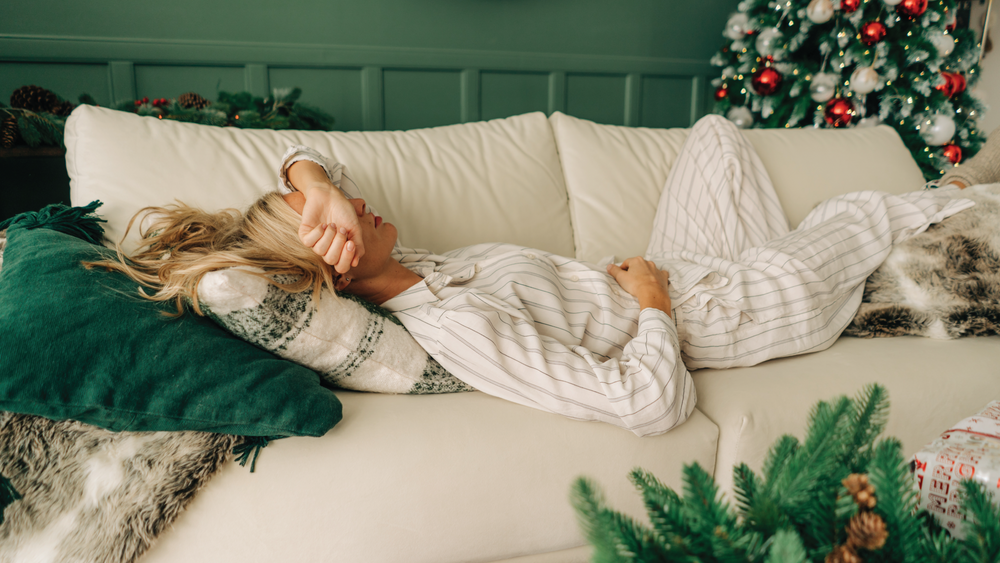 With holiday festivities fast approaching, we're taking a proactive approach to avoiding pre-party season burn out with the help of some simple wellness tips. As with all our wellness practices, it's important to avoid self-shaming in the event that we fall short of our goals and instead approach our plans with kindness, compassion and self-love. We'll be actively setting intentions to prioritize our health and if we miss the mark, we'll simply acknowledge, exhale and try again! 
Establish an Accessible Wellness Routine BEFORE the Holidays Begin
Once the holidays are in full swing, it's likely we'll have so much on our plates both literally and figuratively (YUM to festive feasting!), that we would be remiss to suggest adopting a new wellness routine in the midst of all the celebratory chaos. Instead, we'd consider the calm before the seasonal storm the perfect time to put a manageable wellness routine into place. Pre-emptive wellness prep ensures that we'll have some tools ready to help us navigate the onset of holiday stress.  
Get in the habit of adopting simple wellness practices, like spending the first few moments of your morning in mindful meditation and committing to a little reflective journaling at night. Incorporating healthy choices now, like taking a daily probiotic to support your gut health or committing to getting better sleep with a quality mushroom supplement, means you'll be bringing your wellness A-game when the holidays hit, armed with an arsenal of practices that will help you stay balanced.  
With the focus on not burning out before the holidays, we'd suggest designing a realistic wellness routine that has your personal holiday schedule in mind. No point in setting goals like "be in bed by 10pm" when you know you're living for those late-night holiday hangs. Instead establish something reasonable like "no more than 2 late nights per week" - once you've reached your quota you can either start turning down holiday invites or practice your French exit and slip out early!  
Stock Up on Supplements & Nourishing Pantry Staples
Nothing encourages reaching for junk food and unsatisfying snacking like an empty fridge or barely filled cupboards, and while it's true the busier we get the less time we have to prepare food, why not anticipate the holiday rush and get started early!  
We'd recommend stocking your kitchen with simple staples to make quick, nutritious meals like rice, pasta, chickpeas, lentils, nutritional yeast, a good quality oil, sea salt, ground pepper, coconut milk, as well as your favorite herbs and spices. Next up we're going to suggest you fill your freezer with frozen fruit and veggies for quick smoothies and stir fries, as well as some protein sources and even a few healthy treats. 
Lastly make sure your supplement shelf is filled with everything else you need to get you through the holidays and start supplementing now to keep your immune system in check.  Have fun customizing your supplement stash, and see what works best for you and your lifestyle before the holidays begin. 
Stick to Your Boundaries and Don't Over-Commit
Okay people pleasers, this one's going to be tough, but we're going to suggest you prioritize your own health and wellbeing this holiday season, even if it means saying no to the community cookie swap or your 5th family gathering in a row!  
We're not here to tell you what to say no to, that's for you to decide, instead we're going to strongly suggest you make a plan in advance of impending invites and predetermine where you're going to prioritize your energy.  
Give yourself the opportunity to set an intention leading up to the holidays as to how you'll divide your time. If you have vacation days to enjoy, maybe you'll allot a portion of your time to travelling and visiting relatives and then block off some time for yourself to do some yoga classes or enjoy time in nature. Prioritize those choices equally and just like that, boundaries are set! 
Holiday Prep Before the Chaos
We are big fans of being organized! Whether it's with meal prepping or outlining our work schedule for the week, having a bit of a plan before the big event is a solid strategy that applies to holidays too. 
If gift giving is a significant part of your holiday celebrations, set a budget in advance and start your shopping early - you'll avoid overspending and lengthy lines - just think of all the ways you could put that saved time to good use. 
For those of us that find joy in preparing and sharing meals over the holidays, start to consider menu ideas and look at placing some orders early. You can support local farmers and businesses in this way and feel grounded knowing some of the most important tasks are checked off your list well in advance. 
And finally, if decking the halls fills your cup, take a peek at the calendar and block off a date and time to decorate. Begin with some greens+ extra energy for an immediate boost to keep you motivated from start to finish. Then, celebrate with some sweet solitude or if you're a social butterfly, why not shake up a round of super powered beverages to enjoy with friends and family! 
Use left/right arrows to navigate the slideshow or swipe left/right if using a mobile device