How To Transition Your Workout Routine From Outside to Inside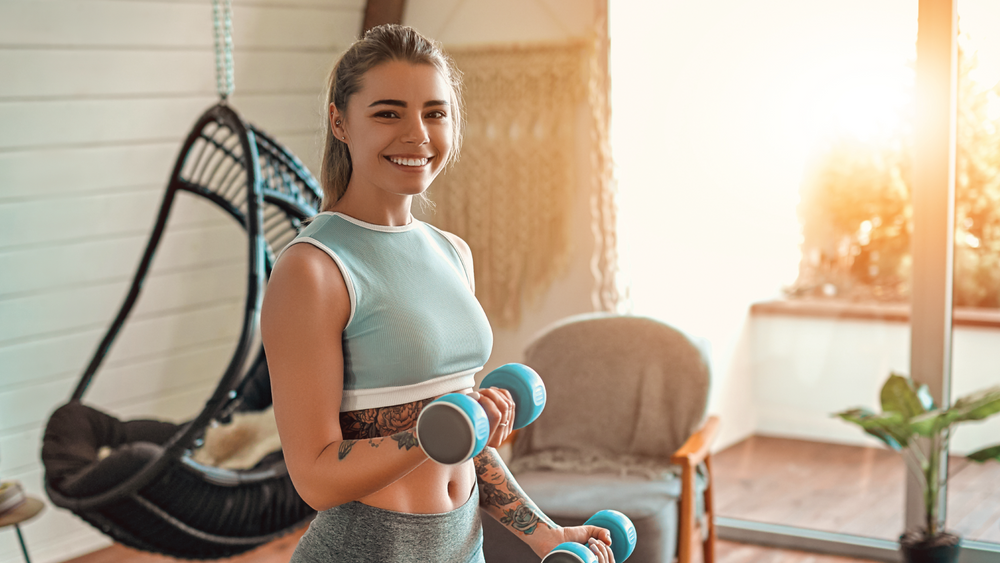 The days are getting shorter and the temperatures are dipping. While the crisp mornings and cooler evenings are great for fall fashion and cozy beverages, for some of us it also means our workout style starts to change. This doesn't mean your workouts need to suffer, they just might need to move indoors. Have fun with the opportunity available to renew and revamp your workout routine for the fall!  
Here are some ways to successfully make the transition:  
Set creative goals: Fitness with no goal can quickly turn tedious. It's always a good idea to set a goal for yourself that will help you adjust to new indoor workouts. If you typically do strength or cardio workouts, use your opportunity of being indoors to focus on stretching or Pilates. This may require some creative thinking and a shift in mindset, but by setting clear goals and intentions, you'll build an indoor workout plan with much more ease. 

Change it up: No matter what the season, it's important to switch up your workouts. Don't let your body expect and adapt to the same mode of exercise. The change of seasons is an excellent time to "trick" the body and add some new types of workouts in. Listen for cues from your body to tell if it's time for a workout changeup: are you bored, are your workouts inconsistent, are you feeling unmotivated? If so, it's time to switch things up. If you've been running outdoors all summer long, add in some strength training. If you've been heavy on the HIIT (High Intensity Interval Training), perhaps it's time to try yoga. 

Sign up for a boutique studio or health club subscription service: If you're not interested in joining a traditional gym, but you also do not like the idea of an at-home workout, it may be time to look into joining a space that is centered on a specific discipline like boxing, indoor cycling, barre classes, or even rock climbing. This is an excellent way to challenge the body and the mind! 

Download an app or subscribe to an online program: There are so many apps and channels on YouTube that you can join to get your workout inspiration. In this way you're still attending a class or committing to more physical activity, but it's within the comfort of your own home. If you're tight on time, this may be the best option for you. 

Join a small fitness group or organize your own: If your friends are also bringing their workouts indoors, this is the perfect opportunity for holding yourselves accountable together. You can start by building a schedule, something that works for everyone, and deciding on a central indoor location. Discuss the types of workouts that interest you all and incorporate the tips above for some additional guidance.                            

Join a rec team/sports league: Find an activity or sport you enjoy or maybe have always wanted to try and sign up for it. Whether it's a recreational volleyball team or a bowling league, a group will hold you accountable and keep you motivated to get out of the house and exercise when the colder weather might make you want to hibernate. This can also be a great way to add to your social calendar. 

Invest in external motivation:

Need an extra push to get going? Why not try a personal training session? This isn't always the easiest task, but when you find your person, they can help take your workouts to new heights! This is a great way to stay indoors (especially if your trainer makes house calls) and to stay motivated. If a personal trainer is not up your alley, try out a new supplement to support your fitness. Explore what supplement you may want to try next based on your current

health goals

and take some time to l

earn more about how to 

optimize your nutrition when working out

!    

                                                                                                                            

 

Set a schedule.

You're going to want to create a schedule once the temperature drops, so that you can stick with a solid fitness routine. Write it down in your agenda and treat it the same way as you would a regular dentist or hair appointment. Hold yourself accountable, but remember to check in with yourself and rest when needed.

 
Don't let the chilly weather give you an excuse to stop exercising completely. While moving your exercise indoors isn't always easy, these eight ways to transition are sure to help you get in a good groove and before you know it, the warmer months will be here again! 
Use left/right arrows to navigate the slideshow or swipe left/right if using a mobile device