Apple Cinnamon Muffins
Posted on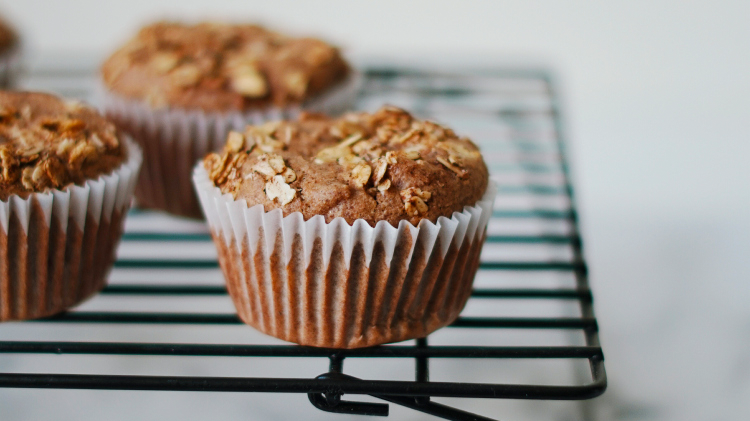 Ingredients:
1 cup spelt flour (can substitute all-purpose flour or 1:1 gluten free baking mix)
1/2 scoop fermented organic vegan proteins vanilla
1/2 teaspoon fine sea salt
1 1/2 teaspoons baking powder
1.5 tablespoons ground cinnamon
Directions:
Preheat oven to 375F and line a small muffin tin with 6 paper liners, or grease well.
In a small saucepan over medium heat, stir the apple, 2 teaspoons of maple syrup, 1 teaspoon of cinnamon, 1 teaspoon of vanilla & 3/4 cup of water until apples become soft and most of the liquid is absorbed. Set aside to cool.
In a small ramekin, mix together all of the topping ingredients and set aside.
In a large bowl, sift together the dry ingredients. In a separate bowl, mix together all of the wet ingredients (not including the apple mixture.) Stir the apple mixture into the dry ingredients, and slowly add the wet ingredients stirring until just combined. Be sure to scrape the sides of the bowl with a spatula to incorporate everything.
Divide the muffin batter evenly among the 6 paper liners.
Bake for 12 minutes. Allow to cool for 5 minutes then transfer to a cooling rack. Allow to cool completely before storing in an airtight container for 2-3 days. Enjoy anytime, anywhere. These apple cinnamon muffins pair wonderfully with a heaping tablespoon of nut butter and a cup of tea or coffee.
Use left/right arrows to navigate the slideshow or swipe left/right if using a mobile device