Banana Protein Super Loaf
Posted on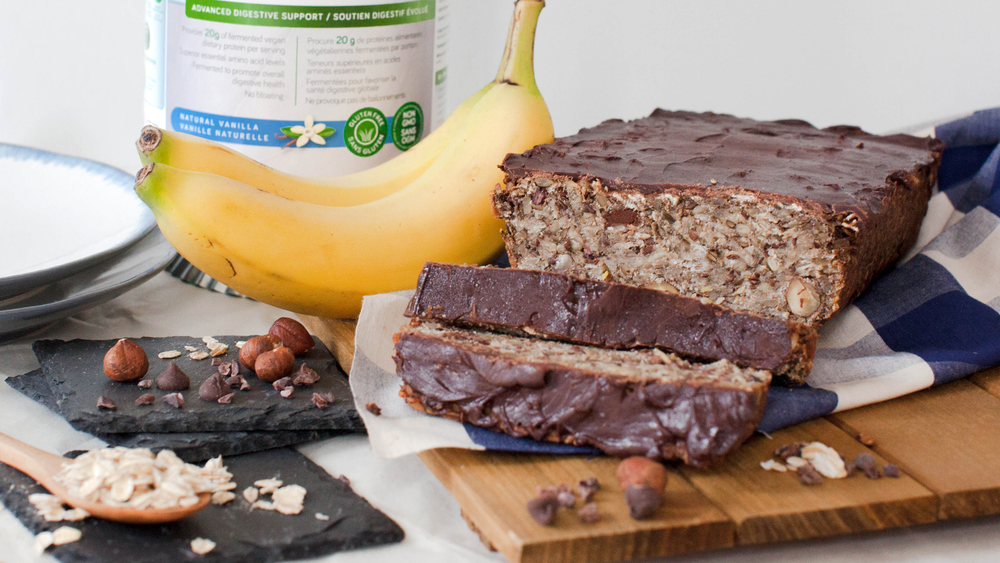 Ingredients:
1 ½ cups filtered water
1 cup sunflower seeds
½ cup flax seeds
½ cup hazelnuts
½ cup rolled oats
½ cup organic dark chocolate chips (optional)
2 ripe bananas
4 tbsp psyllium seed husk (or 3 tbsp psyllium husk powder)
3 tbsp coconut oil
2 tbsp chia seeds
2 tbsp cacao nibs
1 tsp sea salt
Directions:
In large mixing bowl combine all dry ingredients and mix well.
Add in wet ingredients and knead mixture until thick dough is formed.
Press dough into loaf pan and let it sit out on counter for 3 hours or overnight for flavors to blend and develop.
Bake loaf on middle oven rack for 20 minutes at 350 degrees. Remove from oven and gently remove from pan, placing bare loaf upside down on the rack, baking for another 30-40 minutes. The loaf is done when it sounds hollow when tapped.
Melt chocolate over low heat.  Once melted, allow chocolate to cool for 15 minutes and spread evenly over loaf. Sprinkle some cacao nibs to garnish.
Store loaf in tightly sealed container in the refrigerator for up 5 days.
Use left/right arrows to navigate the slideshow or swipe left/right if using a mobile device