Gingerbread Pancakes
Posted on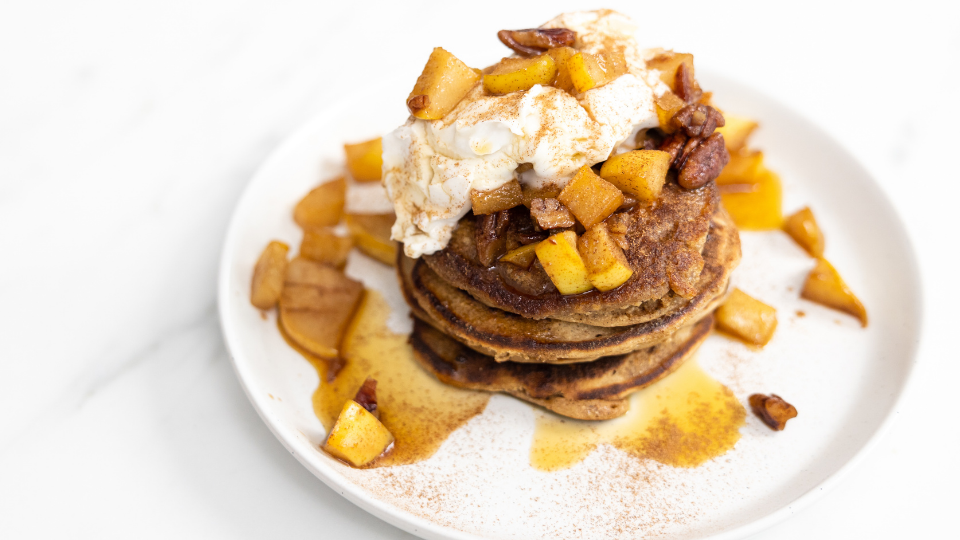 These fluffy and nourishing pancakes will become a holiday favourite with their gingerbread spices and epic toppings! 

1 cup oat flour
1 cup brown rice flour
1/2 cup coconut flour
1 scoop Fermented Organic Vegan Proteins+ vanilla*
1 tsp baking powder
1 tsp baking soda
2 tsp cinnamon
1 tbsp ground ginger
1 tsp nutmeg
1/4 tsp cloves
1 tsp pure vanilla extract**
3 large eggs, whisked
2.5 cups oat milk
2-4 tbsp coconut oil

Toppings
2 tbsp Coconut oil
2 pears, chopped
1/2 cup walnuts or pecans, chopped
1 tbsp maple syrup
1 can Cha's Coconut Whipping Cream - refrigerate for at least 1 hour before using.

In a large bowl, combine flours, protein powder, baking soda, baking powder, cinnamon, ginger, nutmeg and cloves. In a separate bowl, combine vanilla (if using), eggs and oat milk. Combine wet and dry ingredients together.

Heat skillet to medium and melt coconut oil. When skillet is heated, pour batter on to skillet and cook pancakes. Flip when soft bubbles appear on the top. Continue doing this until all the batter is used.

Meanwhile, melt coconut on a small fry pan. Add chopped pears and sauté until tender. Add maple syrup and walnuts to tender pears just to warm up the walnuts. Remove from heat and set aside.

In a large mixing bowl, follow instructions on packaging of whip cream and whip coconut whipping cream until fluffy with a hand mixer.

Assemble pancakes. Place 2 to 3 pancakes on a plate. Add chopped pear walnut mixture, top with coconut whipped cream and maple syrup.

*Don't have protein powder, no problem, just add 1/4 cup brown rice flour.
**If you're using vanilla flavoured protein powder, omit vanilla extract.
Use left/right arrows to navigate the slideshow or swipe left/right if using a mobile device