Pumpkin Spice Donuts
Posted on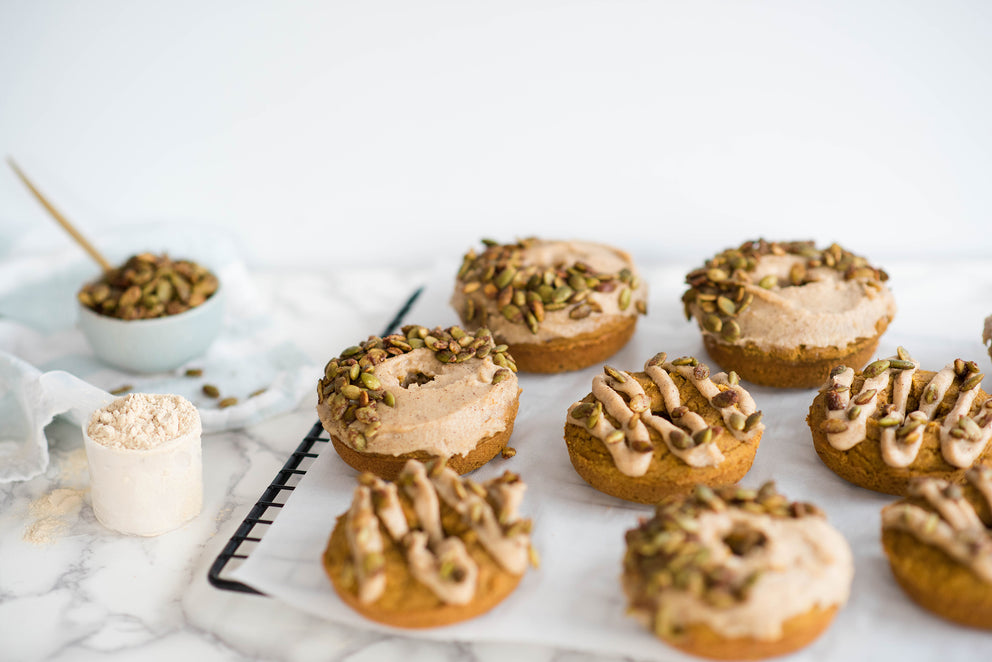 Move over Pumpkin Spice Lattes because we can enjoy these Pumpkin Spice Protein Donuts no matter what time of year it is. These favourites are filled with warming, antioxidant-loaded spices like cinnamon, ginger, allspice and cloves, healthy fats from coconut and cashews, and are sweetened naturally with maple syrup, applesauce and coconut sugar. Although it may seem like a lot of steps, these donuts come together quickly, and hey, you're making your own donuts!
Ingredients:
1 cup and 2 tbsp gluten free all-purpose flour
2 tbsp almond flour
Flax egg (1 tbsp of ground flax with 3 tbsp of water – let sit for 5-10 minutes before mixing into bowl)
1/4 cup melted coconut oil
1/3 cup coconut sugar
2 tbsp maple syrup
¼ cup applesauce
1 tsp vanilla extract
1/2 tsp sea salt
1 tsp baking powder
1/2 tsp baking soda
3/4 cup pumpkin puree
1/2 teaspoon cinnamon
1/4 teaspoon ginger
1/4 teaspoon all-spice
1/8 teaspoon ground cloves
Directions:
Step 1: Make the Maple-Spiced Frosting
Soak the cashews for 2-3 hours before blending.
Rinse the cashews and pour cashews into a blender. Add in 2 tbsp of almond milk and blend until it turns into a creamy mix. You can add more almond milk little by little to achieve a creamy consistency.
In a small pot over medium heat melt the coconut butter and stir constantly with a whisk for about a minute. Then add maple syrup and 2 (of the 4 tbsp) of almond milk, cinnamon, salt and 1 tbsp of fermented organic vegan proteins vanilla .
Once it forms a glaze, mix in the cashew mixture and stir on low heat for 2 minutes until fully combined and creates a whipped consistency.
Step 2: Make the Maple Roasted Pepita Sprinkles
Preheat oven to 350 and line a baking sheet with parchment paper.
Mix all the ingredients in a bowl and make sure seeds are completely coated.
Spread the seeds on the baking sheets evenly, do not overlap the seeds. Bake for 20 minutes, stirring after 10 minutes.
Once roasted. Let them cool completely and decorate your donuts and store the extras in a tightly sealed glass jar and enjoy as a snack!
Step 3: Make Pumpkin Spice Donuts
Preheat oven to 350 and grease the donut pan with coconut oil.
Make the chia egg.
Combine all dry ingredients in a bowl and mix well.
Combine all wet ingredients in a bowl and mix well.
Slowly mix in wet ingredients into the dry ingredients and stir until fully combined. If the mix is a little too dry, add 1 tbsp of almond milk at a time until you achieve a dough-like consistency.
Scoop batter into the donut pan and bake for 20-22 minutes.
Remove from the oven and test with a toothpick to ensure they are ready! (A clean toothpick means that they are cooked through!)
Let them sit in the pan for 5 minutes and then let sit on a cooling rack. Once they have cooled down, frost, sprinkle and enjoy!
Use left/right arrows to navigate the slideshow or swipe left/right if using a mobile device