Raw Superfood Brownies
Posted on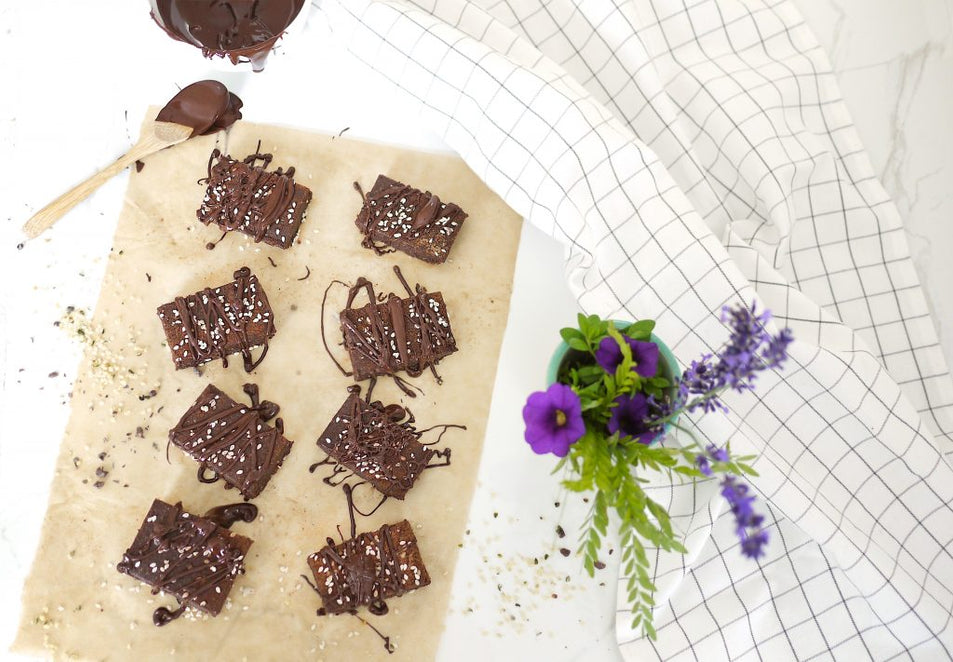 If you're in the mood for a chocolaty treat why not make it nutritious at the same time? These Raw Superfood Brownies are nut-free and packed with phytonutrients making them a perfect snack for both kids and adults enjoy.
Ingredients:
1 cup sunflower seeds
½ cup hemp seeds
¼ cup sesame seeds
¾ cup cacao powder
¼ tsp sea salt
¼ cup cacao nibs (optional)
2 tsp vanilla extract
2 tbsp melted coconut oil
2 cups pitted medjool dates
1/3 cup dark chocolate chips (optional)
Directions:
In food processor, pulse together sunflower seeds until finely ground.
Add hemp seeds and sesame seeds and pulse a few times until well combined.
Add cacao powder, fermented organic gut superfoods+, sea salt and pulse until well combined.
Add cacao nibs, vanilla and coconut oil and pulse until well combined.
Add pitted dates one at a time while continuing to blend until well combined, sticky and starting to clump together a bit.
Scoop brownie mixture into a parchment-lined square or rectangle cake or casserole dish and press down firmly with fingers until evenly spread, flat and firm (you can sprinkle on few more seeds and cacao nibs before you do this to make 'em prettier).
Optional Step: Melt dark chocolate chips for additional topping. To melt chocolate chips, either use a double boiler or a heatproof dish that fits snugly onto a saucepan. Bring about 1 inch of water to a gentle boil in a saucepan. Meanwhile, add dark chocolate chips to your heatproof bowl (glass or ceramic). Place bowl of chocolate chips on top of saucepan with simmering water (the water should NOT touch the bottom of your heat-proof bowl). Gently stir until chocolate chips are melted. Remove bowl from heat before the last few bits have melted and reserve for drizzling over pan of pressed brownie mixture
Transfer dish to freezer for 15-20 minutes before slicing into small squares or rectangles.
Store in an airtight container in the fridge or freezer and enjoy when feeling in the mode for a chocolaty treat.
Use left/right arrows to navigate the slideshow or swipe left/right if using a mobile device