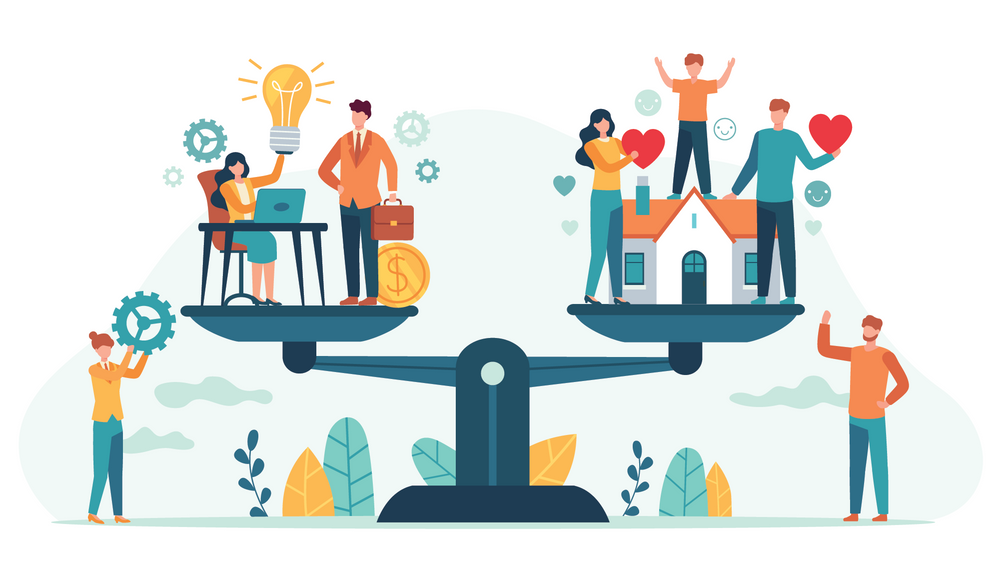 With so many of us working from home during the height of the pandemic, creating distinct boundaries between our work commitments and our personal lives has been a relatable challenge. In addition, there's an unfortunate level of toxic wellness that presents itself in our hustle-hard culture where grinding around the clock is often awarded value and resting is sometimes seen as less admirable. Thankfully, the word is out and we're here to celebrate rest and recharging just as much as hard work and dedication!  
When it comes to creating an effective work-life balance, we've found success with simple strategies to help us manifest the life of our dreams! Just like balancing poses in yoga where we sometimes find the asana easier to hold and other days keep tumbling out of them, the balance we strive for in our daily lives fluctuates. It's important for our health that we commit to the practice but that we also hold space to acknowledge when we are out of balance and find productive and healthy ways to pave the way back.  
If you're looking to establish a more effective work-life balance, take a peak at our suggestions below! 
 1. Set Your Intention 
Intention setting is a very powerful wellness tool. Essentially the idea is to decide what it is you want to accomplish or manifest - in this case it's a solid work-life balance - and then set your sights on that outcome and focus your energy on achieving your goal. This can be set into motion through regular mindfulness practice. Try starting your day with a few deep breaths and a moment to chart the course for your day, beginning with setting your intention. Setting your intention in the morning encourages alignment in your thoughts and actions to move you in your desired direction.  
Come back to your intention when you feel yourself losing focus - gently remind yourself of your goal. End your day repeating the same intention before you go to bed. This reinforces your path and empowers you with the tools to get there! 
2. Establish and Maintain Boundaries
Setting boundaries can be a difficult task for all of us people pleasers out there, but trust us - it's a key component to maintaining an effective work-life balance. If we don't establish what falls outside of our work jurisdiction, then it's quite possible we're constantly going to be overextended.  
If your job runs from 9-5pm it's more than reasonable not to be answering emails after dinner and easier for you to create distinctions between work and home life. If you're on a more unstructured schedule, you might have to create those boundaries for yourself. We love a good 'do not disturb' notification on our phones to alert others that we are unavailable during agreed upon hours. Whether it's allotting enough time to wind down before bed or watch your son's baseball game in the evening, using technology to enforce boundaries can be quite helpful. 
3. Get Organized
While we agree that there needs to be separation between your workday and your personal life, it's important to stay on top of the professional tasks that you've committed to so that you don't fall behind or fail to deliver. Just a reminder, you can use your devices to your advantage here - make sure to input deadlines and meetings into your calendar, as well as block out enough time to finish the task.  
If you have a presentation on Thursday to prep for but you know you have a baby shower on Tuesday and the kids' basketball tournament on Wednesday, you'll want to carve out ample time early in the week and around those events to ensure you walk into that Thursday presentation feeling confident and prepared. There's lots of merit in blocking out prep time, just as we would set alerts for the events themselves, to keep us on track and organized. 
If you're looking to boost your concentration, memory, learning and organization, try our clear focus! It's filled with brain-loving ingredients including Lion's Mane Mushroom and Green Tea Extract to help you get into your productive zone with more ease every day. 
 4. Tune In and Strengthen Your Mind Body Connection
Another technique we practice on our yoga mats but also serves us so well in our everyday lives, is listening to our bodies to help us understand when things might be falling out of balance. While we can't always take the day off when we feel tired, we can make a mental note of our bodies asking us to rest and perhaps cancel plans for later in the week to create time to slow down.  
Prioritizing preparing a really nourishing meal or ensuring we're supporting our health with the supplements our bodies need, can also be a productive response to any indication that we need to focus on our health - and of course connecting with your family doctor is always important if you have any serious health concerns. Yoga and meditation are wonderful techniques to encourage a strong mind-body connection and strengthen your inner intuitive voice. 
5. Let Go of Judgement
If you're noticing a bit of a theme here, you're not wrong - letting go of judgement is a big part of yoga and again, we're here to apply that yogic lesson in the context of our daily lives - in this case when things fall out of balance.  
Despite our best efforts (maybe even following all of the tips above!), we all have days when things just don't align. In those moments, instead of berating ourselves for not accomplishing our goals, it's important that we treat ourselves with kindness and avoid the pitfalls of piling more stress onto our plates.  
Taking a moment at the beginning and the end of the day to check in, reflect on where we wanted to go and how things ended up, is a healthy habit. We can then take a step back and objectively understand where we might want to do things differently the next day. We can also use that information when we set our next intention and make our follow up decisions. Remember, creating balance whether on or off the mat is a work in progress. However, the beautiful thing about empowering yourself to have positive intentions for your life, means that you have the ability to dust yourself off and start over each day. 
Use left/right arrows to navigate the slideshow or swipe left/right if using a mobile device