Women We Admire: Melissa Humana-Paredes
Posted on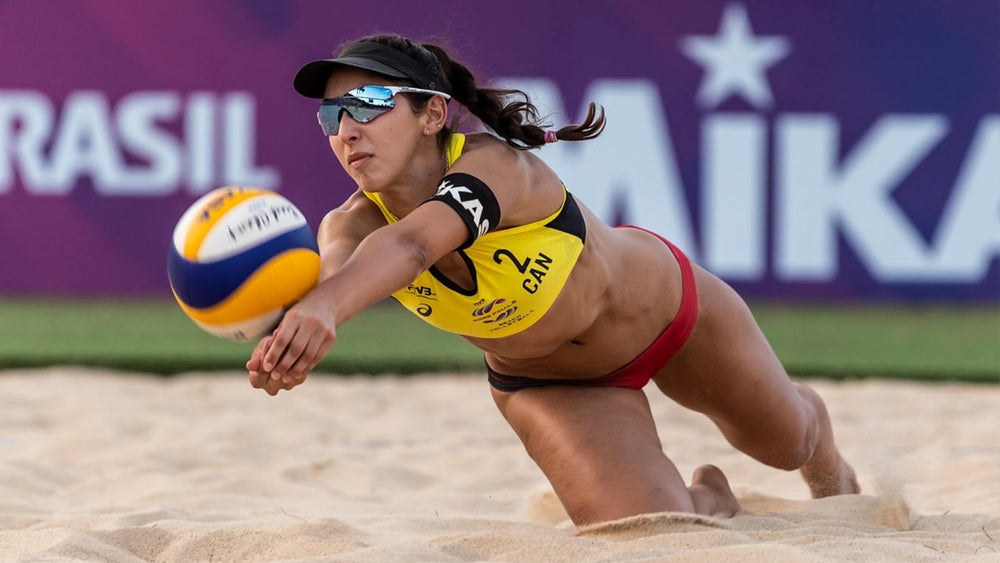 For International Women's Month, we chatted with four women who are leading the way in the health and wellness space—women who embody the word 'strong' and inspire us to put our best foot forward each and every day.

Melissa Humana-Paredes has been a member of Team Canada for beach volleyball for the last 10 years, first representing Canada when she was just 15 years old. Now she's an Olympic qualifier, and hopes to bring back Gold for Canada at the Tokyo 2020 Olympics. We caught up with Melissa to find out how she keeps a positive headspace in sport and life, and why she always follows her gut.

When did you find your passion for volleyball?

It started very young for me; some say I was born with it in my blood. When I was 4 years old, my dad coached his team (Mark Heese and John Child) to a bronze medal at the 1996 Atlanta Olympic Games in beach volleyball, so growing up I was immersed in the beach environment and culture. It was so fun and contagious, I haven't looked back since.

What's your definition of a strong woman?

A strong woman is someone who speaks her truth. Someone who knows how to say no to things that don't serve her and yes to things that excite her!

What do you do each day to keep yourself strong?

I feel my best when my body is balanced and able to do what I ask from it - which is a lot! Recovering and fuelling is very important but I think that all stems from gut happiness. I notice a huge difference in my mental & physical state when my digestion is out of control.

Naturally, I feed myself mentally with some down-time (that usually involves listening to some jazz or slow r&b) and physically with proper nutritious meals but because I demand a lot of myself, I like to enhance my recovery and supplement with clean products. My favorites are GH's vanilla vegan protein powder to repair and build my muscle and GH's marine collagen for joint health (a little extra beautifying benefits don't hurt either!). My two everyday non-negotiables are GH's probiotics and triple strength fish oil because these lay the foundation for overall health.

How do you keep up your strength when constantly traveling?

It's so hard to maintain my strength during a long season of travel and competition. It's inevitable that I'll lose muscle and strength over the course of the season but the key is to prolong it as long as possible! It's something I take very seriously. There's only so much I can do when on the road especially when the food is unpredictable so I have to travel with my advanced gut health probiotics for everyday balance and fermented organic vegan proteins+ for recovery.

How do you mentally prepare for a game?

It's funny because once the tactical preparation is done, I actually actively try not to think about the game during warm-up. So I often listen to music. And not necessarily pump-up music, but feel-good music. Sometimes that means I'll be listening to slow jams before a big game because the environment can be so stimulating that I need to get out of that world for a second and just chill. Lately, I've been caught listening to podcasts and tuning into other people's lives. Anything that can make me smile and/or can take me away from my reality for a second means I'm in a good mental space.

In sport, losses are inevitable. How do you stay positive after one?

I try to put things into perspective. A loss does not change who I am, my friends and family will still love me, the world continues to go on outside of my 8x8 beach box. Failure does not define me but it gives me a chance to get better if I take it, which is all you can ask for as an athlete: a chance to get better.

Who inspires you?

My family inspires me. It's so cliche but it's the whole truth. As Chilean immigrants, they sacrificed a lot to provide me with a better life than they were dealt. I take a lot of things for granted, like freedom, but they have shown me what's possible with proper work ethic and taking risks. I would not be living this life in our beautiful country if it weren't for the risks they took when they were my age. The one thing I don't take for granted is the opportunity to represent Canada on the daily and I owe it all to them.

Do you have a favourite quote or mantra?

A ship in harbor is safe, but that's not what ships were built for.
Use left/right arrows to navigate the slideshow or swipe left/right if using a mobile device