Are Your Shelf Stable Probiotics Dead?
Posted on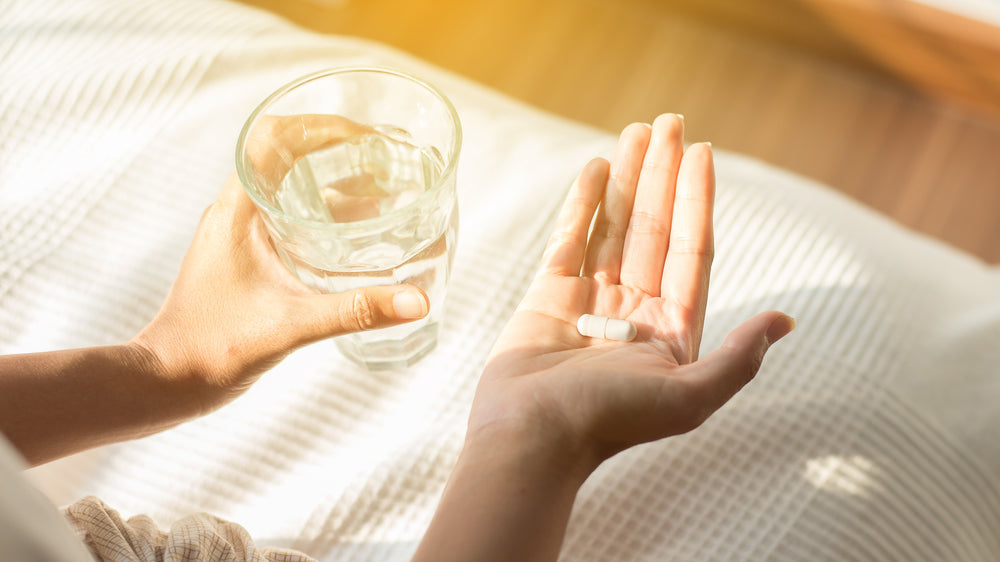 Recently, I read a claim from a natural health product company that said that "All Bifidobacteria strains are 100% dead in shelf-stable products" and "all probiotic strains must always be refrigerated." Is this true?
Yes, we've read that claim too. And it's outrageous and, quite frankly, dated information. Companies that are up-to-date on their nutritional science know better.
We love the natural health product industry, but as wonderful as it is, it can sadly be contaminated by misinformation—sometimes even purposeful disinformation.
But we're here to clear things up, and answer the question,
are shelf stable probiotics dead?
—once and for all. (Spoiler alert: Nope!)
Here's why:
1. Many (many) studies show that shelf stable probiotics are effective.
There are volumes of international studies that have used shelf stable probiotic formulas in capsule, sachet and tablet forms.
These studies show that shelf stable (non-refrigerated) products are effective. See the end of this post for some of them!  
2. This claim is based on old technology and science.
Although it used to be a challenge to encapsulate Bifidobacterium and Lactobacilli and have them remain viable (living), this was in the early 2000s…around 15 years ago. Since then, there have been major advances in manufacturing techniques—in growth and encapsulation—that have made it possible for Bifidobacteria and Lactobacilli strains to be shelf-stable.
Which brings us to the selection of strains—some Bifidobacterium have proven to be remarkably stable in heat and acid conditions while also adhering to intestinal cells. Plus, studies have shown that when Bifidobacterium are properly encapsulated and maintained at room temperature, they can have extensive viability, well beyond the 2-year labeled shelf life. The breakthrough in Bifidobacterium stability in capsules occurred in the late 2000s, but researchers have noted that encapsulating probiotics in a blister pack is a key part of longer-term stability (we'll get to that in a minute).
3. Independent testing shows that shelf-stable probiotics are viable!
Consumer Labs has a comprehensive report on the viability of probiotics and kombucha, here:
https://www.consumerlab.com/reviews/Probiotic-Supplements-and-Kombucha-Drinks/probiotics/
Keep in mind we are not defending poorly manufactured probiotic formulas (and there are many out there). Some probiotic products that claim to be shelf-stable don't live up to the label claim, and are more dead than living. In other words, shelf stable probiotics are
living
and
effective
—as long as you're taking the right one.
4. Our advanced gut health probiotic line is based on the latest advances in probiotic manufacturing and packaging.
The entire line of
advanced gut health probiotics
was designed with one goal: to deliver more hearty and healthy bacteria to where they are needed. Starting with multi-strain formulas with carefully chosen, verified human strains. The strains are triple-cleaned in a temperature- and humidity-controlled environment. This process not only removes weak strains, but also ensures that only the strongest and fittest strains remain—for a stronger probiotic. We then pack them with a generous overage to ensure that even by the time they expire, they still contain the CFU we print on the box.
To ensure that these potent probiotics reach your gut (where they provide benefit), we encapsulate them in a vegan, plastic-free delayed-release capsule. (Our
advanced gut health probiotic kids
is encapsulated with a unique honeycomb technology that preserves the viability of the strains.)
To protect the probiotics from humidity, we thoughtfully chose to package them in a blister pack. Unlike a bottle, which exposes the probiotics to ambient humidity and temperature each time it's opened, a blister pack protects each individual capsule until you are ready to take it.
Finally, we conduct our quality analysis after the capsules have been put in the blister pack—so we are absolutely sure that the bacteria in our probiotics are living.
Bottom line, the claim that 100% of Bifidobacteria in shelf-stable products is dead is completely false and, worse, a form of anti-science.
---
References
Charbonneau D, et al. Fecal excretion of Bifidobacterium infantis 35624 and changes in fecal microbiota after eight weeks of oral supplementation with encapsulated probiotic. Gut Microbes. 2013 May-Jun;4(3):201-11.
Charnchai P, et al. Effects of the Food Manufacturing Chain on the Viability and Functionality of Bifidobacterium animalis through Simulated Gastrointestinal Conditions. PLoS One. 2016 Jun 22;11(6):e0157958) 
Markowiak P, et al. Effects of Probiotics, Prebiotics, and Synbiotics on Human Health. Nutrients. 2017 Sep 15;9(9). pii: E1021
Reid G, et al. Probiotics: Reiterating What They Are and What They Are Not. Front Microbiol 2019; 10: 424.
Use left/right arrows to navigate the slideshow or swipe left/right if using a mobile device