Homemade Cashew Yogurt
Posted on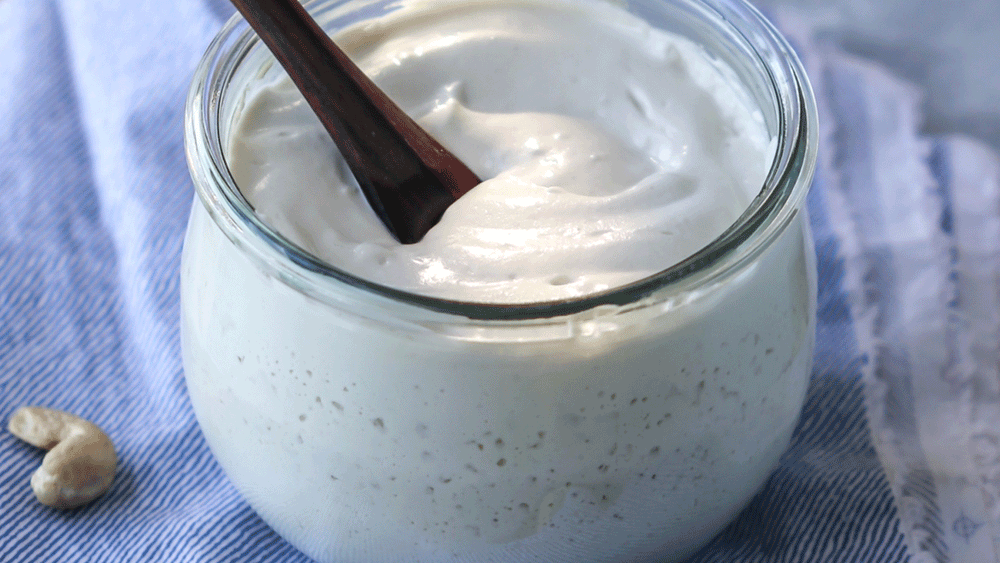 This two-ingredient homemade cashew yogurt is so easy, you'll be wondering why you never tried it before. It's packed with healthy fats from the cashews, and on-so-good-for-you probiotics that benefit your digestive and immune system health. Enjoy this dairy-free yogurt on its own or layer it up with fruit into a delicious yogurt parfait. All you need is a few simple tools: a blender, a glass jar (for storing the yogurt), a paper towel/cheesecloth, and a rubber band (to cover the jar).
Ingredients:
Directions:
Cover the cashews with warm filtered water and let them sit on the counter for 4 hour or overnight. Rinse a few times, drain, and throw into the blender.
Add fresh water to the blender and blend for 2 minutes on high until the cashews have completely broken down and the cashew milk gets a bit warm.
Open up a probiotic capsule and add the powder into the blender. Blend for a few more seconds so the probiotic is thoroughly mixed with the cashew milk.
Pour the mixture into a clean glass jar. I like to rinse the jar with boiling water first to make sure it's sterile. Cover with a paper towel or cheese cloth and use a rubber band to keep it in place.
Place the glass jar in a warm spot in your home. I always put it in the oven (OFF) with the light on. Let it ferment overnight (about 8 hours) or up to 24 hours. The longer it sits, the thicker and tangier it will get.
Remove the yogurt jar and taste with a clean spoon. Once you're happy with the level of tanginess, cover with a lid and let it chill in the fridge for at least 2 hours to let it firm up even more. Serve it as is or in a parfait with layers of berry sauce, granola, and berries/fruits. Enjoy! Keeps fresh in a cold spot in the fridge for about 2 weeks.
Use left/right arrows to navigate the slideshow or swipe left/right if using a mobile device